Back to all posts
Posted on
Fairbairn Cares Holiday Concert - In Support of the Lethbridge Food Bank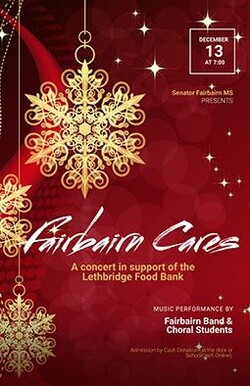 Fairbairn Cares
A concert in support of the Lethbridge Food Bank.
Monday, December 13, 2021 - 7:00pm (Fairbairn Atrium)


"Fairbairn Cares" is the name of the fundraiser and it is done in conjunction with our seasonal school music concert. Through government grants and arrangements with grocery merchants, the food bank has three times the buying power over the normal consumer.
Our goal as a school is to raise a minimum of $1200 in cash to donate to the food bank which will give them close to $4000 in buying power that they can use to target the specific needs of our community. You can easily support the food bank by using the link below. You will be given a choice ranging from $2.00 to $50.00 that will go through the SchoolCash Online system that you already use to pay for school fees.  A tax receipt will be emailed to you.
Please donate today if you can: Donate