Back to staff directory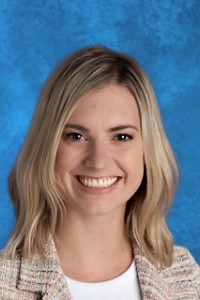 Hello! I'm Kelsey Huculak and I am thrilled to be a staff member of Senator Joyce Fairbairn Middle School from its inception. I have been extremely passionate about becoming a teacher ever since the disappointment and reality of my Hogwarts letter not arriving really sunk it. This happened at around the age of sixteen.
Born and raised in Lethbridge, Alberta, I have always been heavily involved in the school communities of Lethbridge. I received my post-secondary education from the University of Lethbridge and began my teaching journey at Winston Churchill High School in the departments of Social Studies and English, while running the JV girls volleyball program and helping start a school GSA. Remaining on the north side, I then spent the next four years of my career teaching Language Arts and Social Studies in Grade 7 and 8 at Wilson Middle School, while running the boys volleyball program and being involved in a plethora of school clubs and events such as doing hair and makeup for the school productions, and going on numerous school travel trips to places like Ottawa/Montreal & sailing the gulf islands near Vancouver! I love being as involved as I can in the fabric of a school community in as many different capacities as possible!
At Senator Joyce Fairbairn I will be teaching Grade 7 and 8 Language Arts and Social Studies. I will also be head coaching the rep boys volleyball team. In my spare time I enjoy globetrotting (my country total is up to19 and counting), golfing, climbing mountains, reading, and spending time with my fiancée, family, and friends. I am thrilled to be a part of this fabulous community and cannot wait to start the school year and meet my students!!
One of my favourite poets really captures the essence of middle school to me and I will leave you with this:
"Bloom beautifully, dangerously, loudly, softly, however you need, just bloom." - Rupi Kaur